I tabulated my expenses from Jan-May 2020 in this post as I was really curious about the impact of Covid-19 on my expenses. I mentioned that there were 2 habits which I would like to follow through, after the end of circuit breaker.
First, it is to reduce the number of times that I dine out. Although the frequency of dining out has decreased, it wasn't done intentionally. It has become a habit to catch up over a call or texts. I still head out to catch up over a meal with my close friends, and I have some tips to reduce this expenditure below. (I post my recommended food spots on my Instagram account, @scrappyfoodie)
Second, having zero or reduced paid fitness activities. A fitness package typically cost >$1k per annum so it is quite a substantial amount. Since I am quite used to the home workouts (YouTube), I did not buy any fitness packages. Admittedly, some activities which I did (Muay Thai, Yoga and Spinning) are not a good substitution for a home workout.
Another factor which deterred me from buying a package was the time incurred for travelling. A two way trip would take up more than an hour, which could have been put to better use.
Here's my variable expenses from Jun-Dec 20. I had excluded fixed expenses such as insurance (~$500), telco bill ($25) and for my parents ($400).


Groceries: Surprisingly, the purchases are still quite high. I am probably used to heading to the supermarket to buy fruits and roasted chicken from Fairprice (simple weekday lunch)
Transportation: Since I have to make my way to the office on alternate weeks, my expenses have increased from <$10 to ~$100
Food & Drinks: This is the category which forms the majority of my spending
Purchases: It has become a habit to buy things that I truly need. The biggest expenses this year were an iMac, Ipad and Apple Pencil. It took quite a bit of restraint to not give in to my temptations to get iPhone 12 or S20. I would definitely consider purchasing either when we can travel
Here's my variable expenses from Jan-May 20, for easy reference.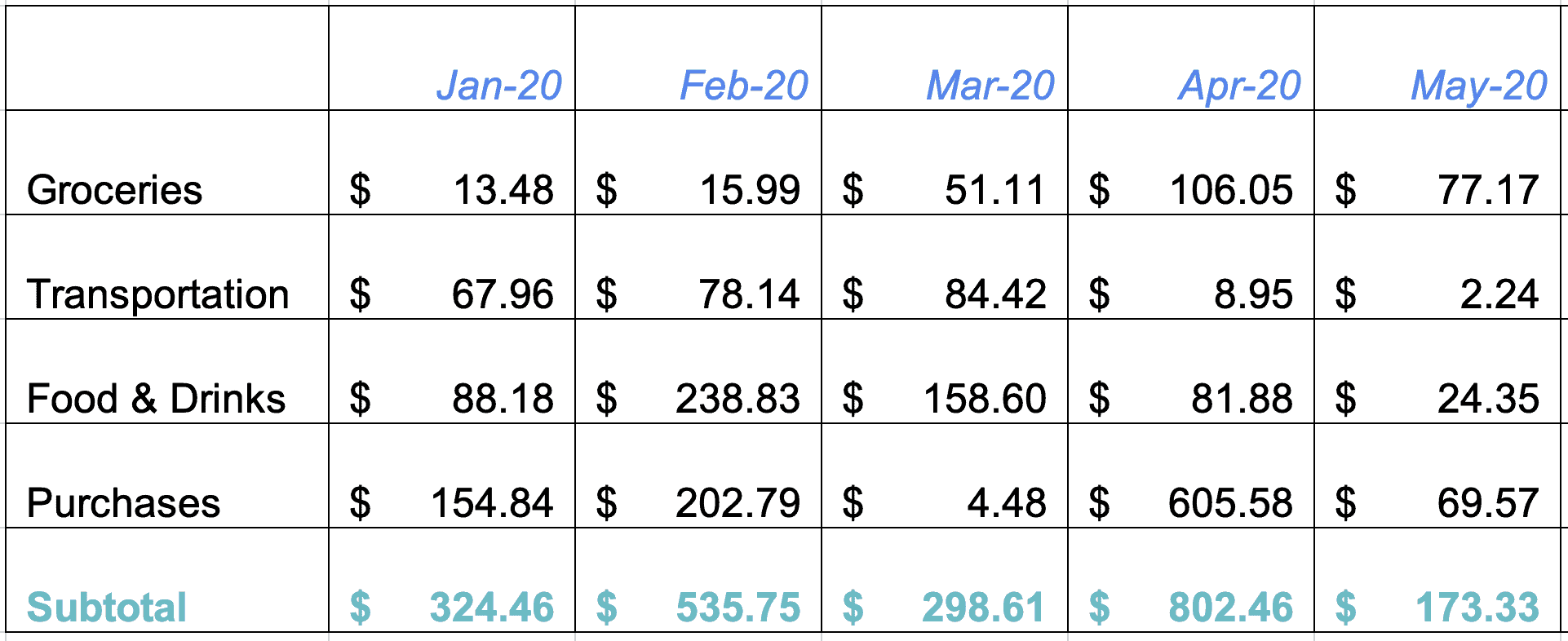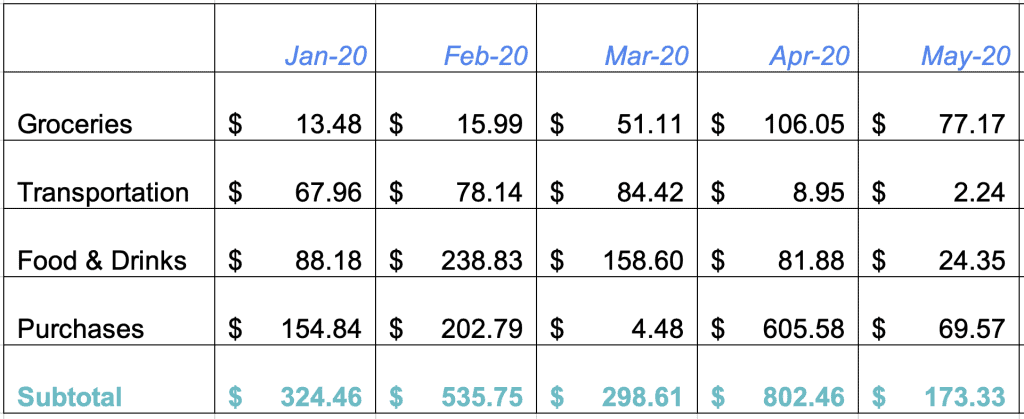 How to save money on food
Since F&B is the category which I spend the most on, I try to reduce the spending if possible. I rarely spend on lunch on weekdays (lunch provided at work/packed food). This enables me to save ~$160 (Assuming that each lunch cost $8).
These are the apps I use to reduce the food expenses: Burpple Beyond, Entertainer, Chope, Quandoo, Eatigo, Shopback, Klook and Fave.
My biggest savings come from using Burpple Beyond and Entertainer. After using 1 for 1 from either apps, I pay around $15-20 per meal typically. Without the apps, 2 mains from La Noona/Mad for Garlic will cost around $30 per pax.
Chope
Chope is a platform that rewards you with Chope Dollars for every reservation made. Both Chope and Quandoo have the same function. So it is up to you to decide which platform to use. I like Chope for its convenience (many restaurants are on it). While for Quandoo, it gives you cashback.
Feel free to use my link to create a Chope account to earn 300 Chope-Dollars after fulfilling your first booking. The Chope Dollars can be used to offset the cost of vouchers.
2 ways to reduce your expenses on Chope: buying their vouchers and via redemptions from their loyalty programme, ChopePerks
Quandoo
Similar to Chope, Quandoo is a platform to make reservations. You will gain loyalty points when you make a reservation, provide reviews and refer a friend. Every 1,000 points you earn is worth $15 cashback. (they will transfer it to your bank account)
Here's the promo code QUANDOO2116ZQL if anyone is interested!
A way to reduce your expenses on Quandoo: redemptions from their loyalty programme
Eatigo
It has been sometime since I used Eatigo, as the discounts offered are significantly lesser. If you dine at off-peak timings, this free app would be suitable for you. Here's the link to sign up. We will get $10 as a reward.
2 ways to reduce your expenses on Eatigo: buying their deals and % discount when dining at selected timings
Shopback
Shopback offers flash sales, upsized cashback and in-store promotions for F&B. I use Shopback when I make my online purchases, and redeem the cash back.
Here is the link to sign up. There will be a $5 discount for both of us ($20 spend needed) 
2 ways to reduce your expenses on Shopback: buying their deals and getting cashback when shopping with their partners
Klook
Although Klook is more known for their travel discounts, there are plenty of F&B deals on their website. Some popular ones are Ya Kun, Ng Ah Sio Bak Kut Teh, Jumbo and Tung Lok. Feel free to use my link to sign up. We can get $5 off after your purchase.
2 ways to reduce your expenses on Klook: their stated discount and redemption of points after you complete and/or provide a review of your purchase.
Fave
At times, there are fantastic promotions run by various restaurants. Nowadays, I use this app to make payment.
How to save money on purchases
Here's what I have been doing to make sound purchases.
Don't give in to instant gratification, by having a window of time before you make any purchases
Head to Carousell before buying anything at retail price
Shop online, with no pressure from the retail assistants
Planning for purchases in advance
Summary
I watch my expenses closely as savings rate is instrumental in building wealth. By not spending carelessly, I can set aside a healthy surplus for investment.
Admittedly, it can be hard to deny short term immediate self-gratification in favor of a long term reward. But knowing what I do today will affect my future is the push for me to cut down on unnecessary spending.
I know my friends who don't head out save the most amount of money. Still, everyone has different needs and ways of enjoying life. I prioritise having a good meal, so I would spend more on F&B category. In return, I cut down my expenses on other categories (clothes, shoes, bags, makeup). Or find ways to reduce the spending via the apps which I had mentioned.
It's important to strike a balance between what to spend on now or to save for the future. It's also okay to spend on things that we cannot delay into the future.
Hope these tips help!
I will share more updates on my Facebook page. Really appreciate if you could drop a like and connect.