With easy to use features and SGD 200 Stock Cash Coupon Bundle, I had hopped over to Futu Singapore as my latest broker. Out of all the features that I enjoy on moomoo app, having a good customer support is the one that I appreciated the most. I had made 2 calls while signing up and my queries were responded promptly. A 24 hours customer service on trading days is very important to me, as it gives me a peace of mind when I trade. This is exactly what moomoo powered by FUTU offers as well.
In case you are wondering, my first question was to clarify the fees after the promotion period (180 days). Under " Calculate commissions", you will know the commission and platform fees once you type in the Stock Code. My next question - when my account will be ready (within the day for my case).
Multiple brokerage accounts are beneficial in helping you to diversity your risk of putting all your eggs into one basket. Also, account insurance under the Securities Investor Protection Corporation amounts to $500,000 per broker. So dividing assets across different brokerage companies can help you protect a larger overall portfolio more effectively.
Commissions are charged differently in each market. If you are looking to minimize your commissions, having more than one brokerage accounts would be wise. It is best that you have an investment plan and find the brokers that align with your plan. I personally have 5 different brokerage accounts, each for their own purposes.
Futu Singapore (US/SG/HK stock)
DBS Vickers (SG stock)
Tiger Brokers (SG/HK stock)
Standard Chartered (Irish-domiciled ETFs on LSE)
TDAmeritrade (US stock)
What I will need next: FSMOne (to sell SG stock from CDP)
Unique selling point of moomoo trading app
Free real-time quotes and competitive commissions
Centralised information & global community·
Learning courses & 24 hours customer service
Helpful tips
From first picture, you can see my transactions which are very transparent. I used the commission-free coupon for SG market. S$1.62 is charged for platform fee. After depositing S$2,700, I received my rewards within 5 days too! Bank transfer takes around 15 minutes (Depositing S$2700 is the first condition to redeem your benefits). DDA is also available if you have a POSB/DBS account.
From the 2nd picture, I made my first trade (you have to make 5 trades as a second condition). I would recommend you to make a trade with US stock to minimise your fees (unlike SG market, you don't have to buy stocks in multiples of 100)
From the 3rd picture, click on "currency exchange" to exchange SGD to USD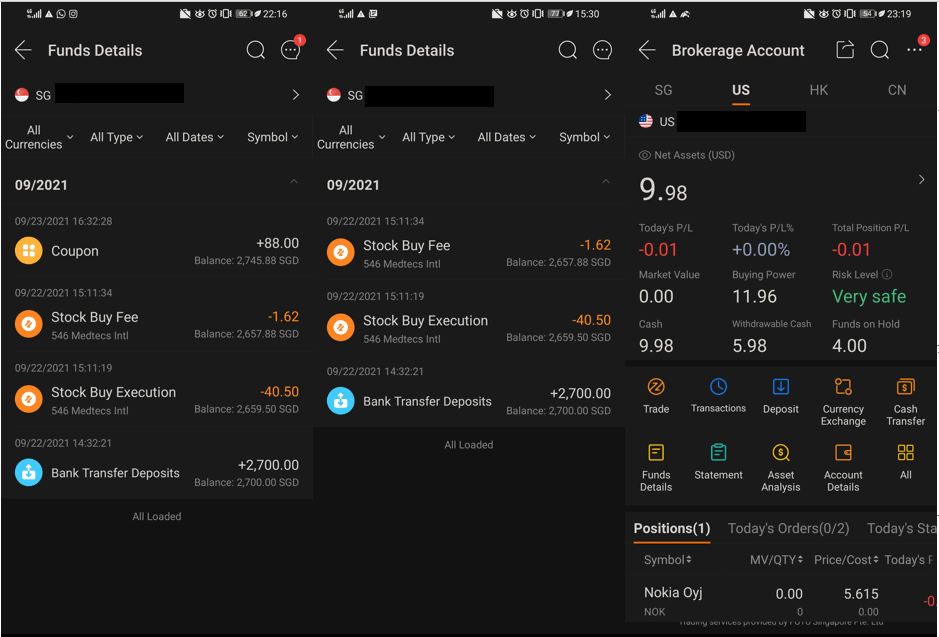 Why use moomoo trading app?
moomoo is a subsidiary of NASDAQ Listed Futu Holdings (NASDAQ: FUTU) that is backed by Tencent.
Futu Holding Limited and its subsidiaries has 43 licenses globally in major financial markets such as United States, Hong Kong, Singapore and others. In Singapore, capital markets products and services on moomoo are offered by Futu Singapore Pte. Ltd. licensed and regulated by the Monetary Authority of Singapore (MAS) (Licence No. CMS101000).
Futu SG's comparative advantage to its peers is known for being reliable, secure and stable, low commissions and seamless investing experience whilst both licensed and regulated (by the MAS). moomoo app's trading capabilities are also backed by its self-developed and proprietary trading system.
Backed by world-class strategic investors including venture capital affiliates of Tencent, Sequoia Capital and Matrix Partners
After almost 9 years of development, Futu's trading platforms has garnered almost 16 million users from more than 200 regions and regions around the world, with over one million average daily active users.
Enjoy 24 hours customer service on trading days for a peace of mind – Futu prides itself in putting our users' experience as a priority. Within the app, customers can use their in-app live chat function via "customer service" where a customer service representative will attend to your questions.
Additional customer service support available via their in-app "Help Center", hotline, email and social media platforms
Customer support
"Help Center" via in-app
Email: clientservice@futusg.com
Social media: @moomoosingaporeo
Customer service line: +65 6321 8888 (Working day: 24 hours, Weekdays: 9am – 9:30pm)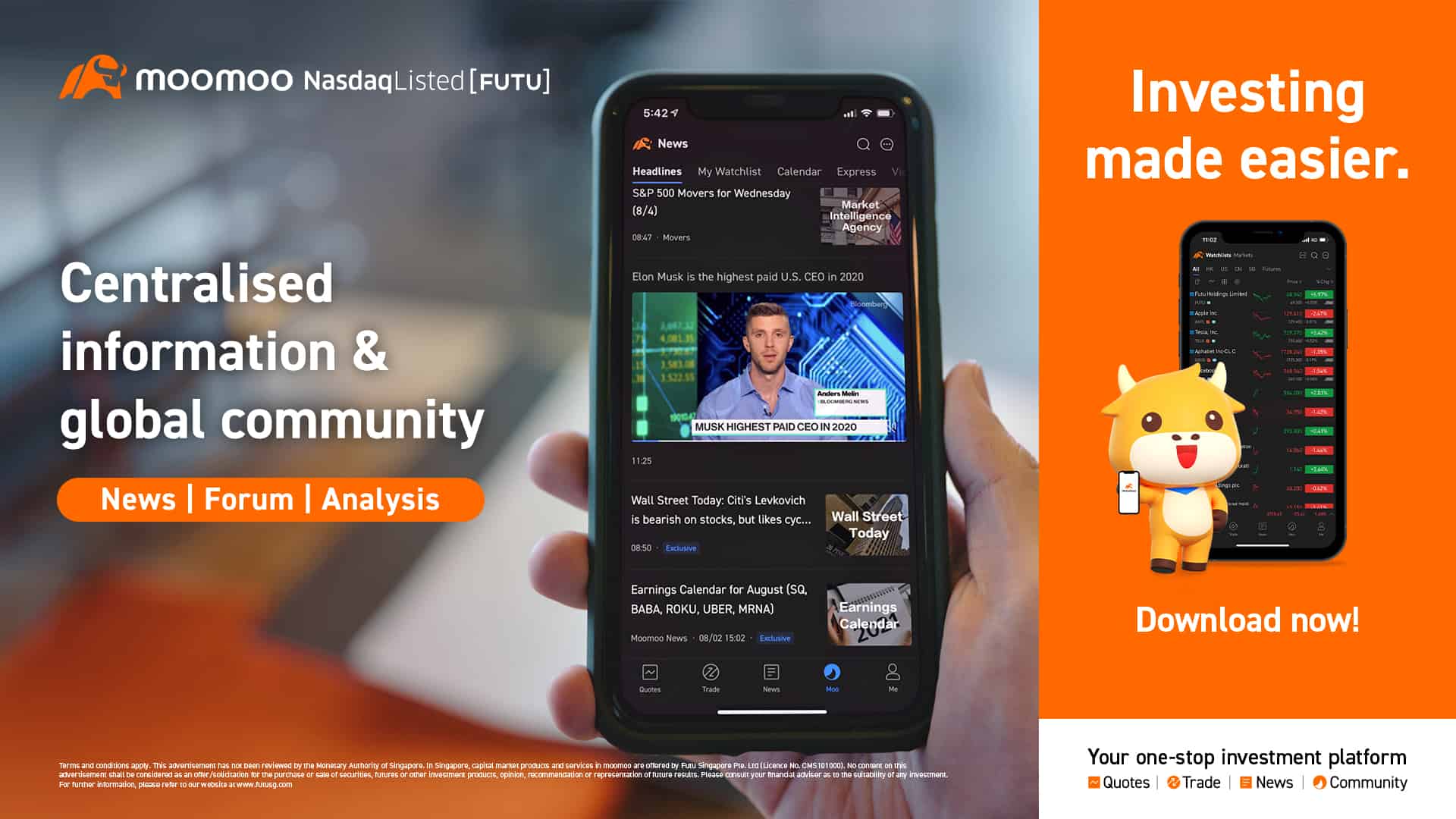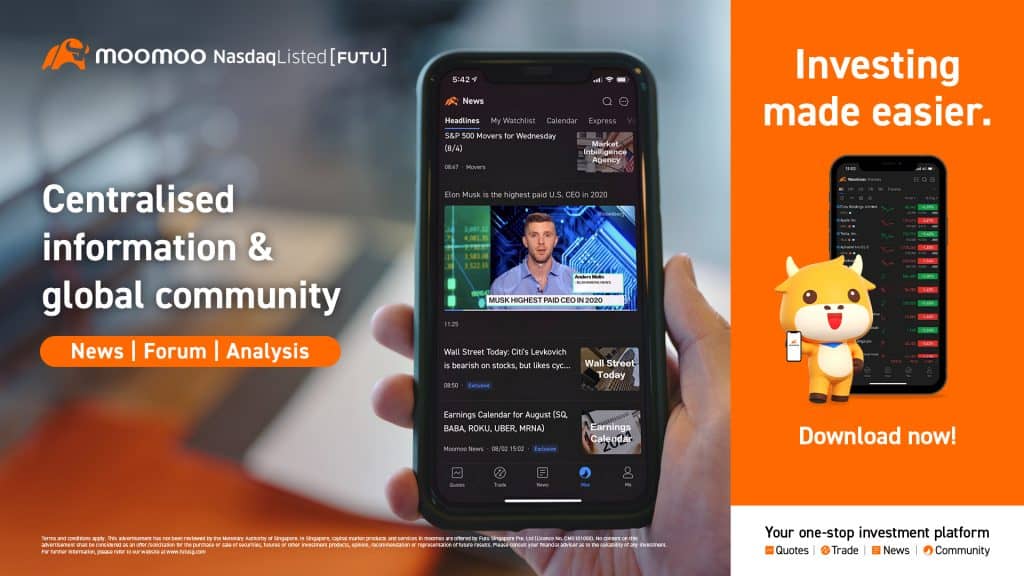 Campaign Period: 2 October 2021 at 20:00 hrs SGT and end on 1 November 2021 at 09:59 hrs SGT
Upon deposit of minimum $2700SGD, you will get SGD 200 Stock Cash Coupon Bundle. Stock Cash Coupon Package will be allocated into user's FUTU SG securities account and will be activated over a 0, 30, 60, 90 days from allocation date.
There may be some questions on your mind, which I hope to address.
Is trading via moomoo app safe?
Trading on moomoo is safe because Futu SG is regulated by top-tier financial authorities and U.S. securities in your account are protected up to $500,000 by Securities Investor Protection Corporation (SIPC), explanatory brochure available at www.sipc.org.
How do I withdraw money from moomoo app?
If you're looking to withdraw your funds from your Futu SG securities account, know that Futu SG does not charge withdrawal fees. To start your withdrawal, simply login to your trading app, click on "Brokerage Account", select which currency account you're withdrawing from, scroll down, and click on the "Withdraw" option.
How do I transfer money from FUTU SG securities account to my bank account?
Step 1: Log in to E-Banking/Mobile App and go to "Bank Transfer - Transfer Out to Transfer In - Merchant to Bank";
Step 2: Fill in the transfer debit account and the amount to transfer. Transferee account: Select the HKD account if you withdraw HKD, and select the USD account if you withdraw USD.
How long does FUTU SG take to deposit?
The settlement day for deposit will be around 5-6 business days. For example, you have deposited $150 in your account on 21st August, then the money is settled in your account on 26th August.
NEW user benefits
moomoo powered by FUTU's Welcome Rewards – Free Apple (AAPL) shares!
Campaign period:2nd Sep at 20:00 hrs SGT- 2nd Oct at 19:59 hrs SGT
Sign-up: 180 days unlimited commission-free trading for the US, HK & SG stock market.
Successfully open a FUTU SG Securities Account
- (i) Free access to Lvl 2 Market Data for the US stock market
- (ii) Free access to Lvl 1 Market Data for the SG stock market
- (iii) Free access to Lvl 1 Market Data for China A Shares market data
Deposit Rewards:
SGD 88 cash coupon* for the First Deposit of ≥ SGD 2,700 , USD 2,000 or HKD 16,000. (*Only from now to 30 September at 23:59 hrs SGT)
1 Free Apple (AAPL) share worth around SGD 200* for the First Deposit of ≥ SGD 2,700 , USD 2,000 or HKD 16,000 & Trade 5 times on any market and product except Futures. (Limited redemptions of 15,000 shares only.)
Position/Shares transfer-in Offer
Users who successfully complete a HK/US stock positions/shares transfer-in to Futu Singapore securities account, will receive SGD 50 Cash Coupon for the first transfer-in only.
Click here to redeem your benefits with moomoo powered by FUTU.
Thank you for reading my post! Please feel free to connect with me and get updated posts on Facebook.