TDLR

Open account to get SGD10 grab voucher, make an initial funding of and maintain at least SGD2000, and execute at least 1 buy trade of stocks, ETF or options on the US market within 30 days. Sign up here
Webull has officially launched in Singapore with great welcome offers. It is a fast-growing global fintech online brokerage with over 25 million App downloads. Take advantage of the attractive rewards that Webull provides! They have real-time free market data and charge 0 commission, 0 platform fee and 0 membership fee for US stock & options trading.
With Webull, you only get US and Hong Kong markets. So, you need to strategise what you would like to buy with the brokers in the market. Nevertheless, it is a good opportunity to be rewarded with up to USD 130 TSLA fractional shares* to get started on your investment journey
*Net Cumulative Deposit = Accumulated deposit amount – Accumulated withdrawal amount, capital gains &
losses are excluded.
*This promotion is valid from 1 Sept 2022 16:00 SGT to 30 Sept 2022 15:59 SGT (both dates inclusive). For
welcome rewards T&Cs, please see here.
They currently offer USD130 TSLA to new users, which is the biggest deal in the market. Sign up here
Welcome rewards
Clients who open a Webull brokerage account, successfully make an initial minimum deposit of SGD2,000 within the Campaign Period, maintain a *Net Cumulative Deposit of at least SGD2,000 for a holding period of at least 30 calendar days, and execute at least 1 buy trade of either Stocks or ETFs on the US market, within 30 calendar days from the date the initial deposit is settled, via the Webull App, will receive TSLA fractional shares valued at USD100 in their Account.
Clients who execute an additional 1 buy trades of Options on the US market, in addition to the 1 buy trade within the same 30 calendar days from the date the initial deposit is settled, will be notified via the Webull App and receive additional TSLA fractional shares valued at USD30 in their account!
*Note: Buying US stocks & ETFs has a minimum transaction amount of USD100; options are unlimited.
Comparison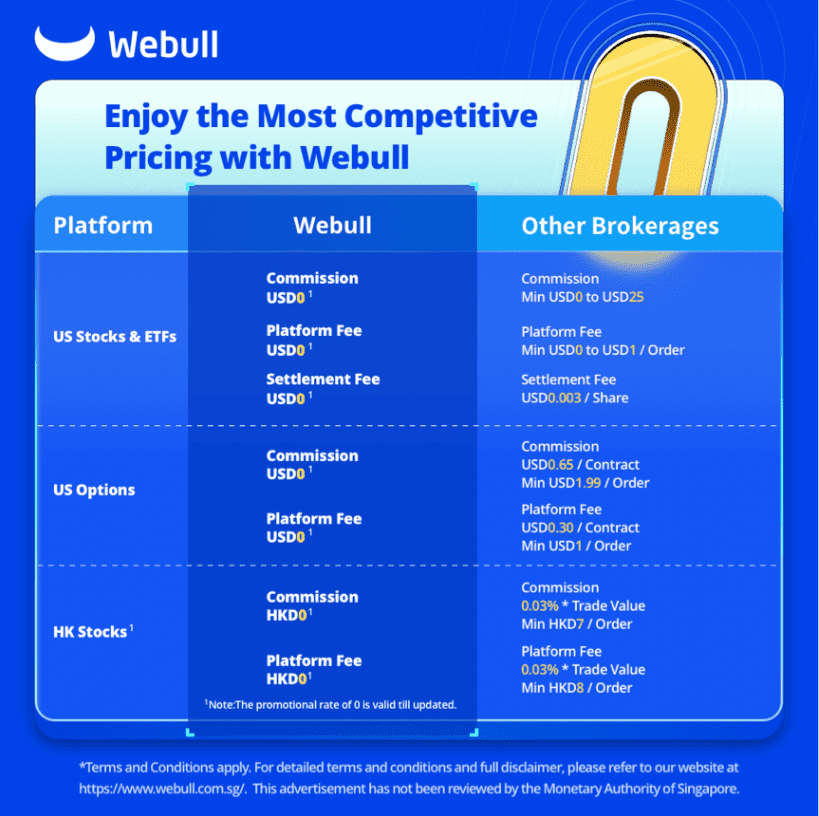 Why trade on Webull?
You can trade Stocks (fractional shares), ETFs, and Options.
- Learn more: Webull – Fees for Investing in the US and HK Markets
0 commissions when trading Stocks, ETFs, and Options.
USD0 per contract when trading US Options.
- Learn more here
0 account maintenance fees.
No minimum funding requirement to open a brokerage account.
Full extended hours trading
o Pre-market (4:00am – 9:30am ET)
o Post-market (4:00pm – 8:00pm ET)
Accessible on Webull SG mobile (iOS & Android)
24/7 in-app Help Center
Powerful and user-friendly trading platform
Interact with over 25 million global users in Webull community
Market quotes promotions
Register for a Webull brokerage account and receive a complimentary 1-month subscription to Level 2 US market data, also known as Nasdaq TotalView.
- Includes: NOII, Best 50 bids & offer on Nasdaq
- Learn more: Introduction to Level 2 Advance
Apply to trade Options on Webull and receive a complimentary 1-month Options Price Reporting Authority ("OPRA") real-time data subscription after executing 1 Options trade
- Learn more here
- Clients can extend their complimentary OPRA real-time data subscription if they execute at least 1 Options trade every 30 calendar days. The complimentary subscription will be terminated once the Client fails to execute at least 1 Options trade within a 30-day period.
*Terms and Conditions Apply
Account types available on Webull
Under Brokerage, there's
- Cash / Margin
- Clients can have 1 cash / margin account on Webull
Webull Social Media Handles
Instagram: https://www.instagram.com/sgwebull
Facebook: https://www.facebook.com/WebullSingapore
Twitter: https://twitter.com/WebullSingapore
YouTube: https://www.youtube.com/channel/UCX1PHwpXhFxWR5v61rEgLZQ
LinkedIn: https://sg.linkedin.com/company/webull-securities-singapore
Invest wisely and safely, here's the link to get exclusive rewards.
Please like my Facebook page to get the latest updates.