NIO Inc. (NIO) 's research and analysis are contributed by Edmund and Harry.
NIO was founded in November 2014 by William Li, the Chairman of Bitauto and NextEV. After launch, several companies invested in NIO, including Tencent, Temasek, Baidu, Sequoia, Lenovo and TPG. Its first model, the NIO EP9 sports car, debuted the same day the brand was established.
In August 2020, NIO launched Battery as a Service (BaaS) and formed a battery asset management company in collaboration with Contemporary Amperex Technology Co., Limited ("CATL"), Hubei Science Technology Investment Group Co., Ltd. and a subsidiary of Guotai Junan International Holdings Limited. Each contributing RMB200 million into the venture for 25% equity. BaaS helps lower the purchase price of Nio electric vehicles by about 25%.
Overview
NIO's Chinese name, which translates to "Blue Sky Coming" originated from their vision of a future filled with blue skies. Their mission is to shape a joyful lifestyle by offering premium smart electric vehicles and being the best user enterprise.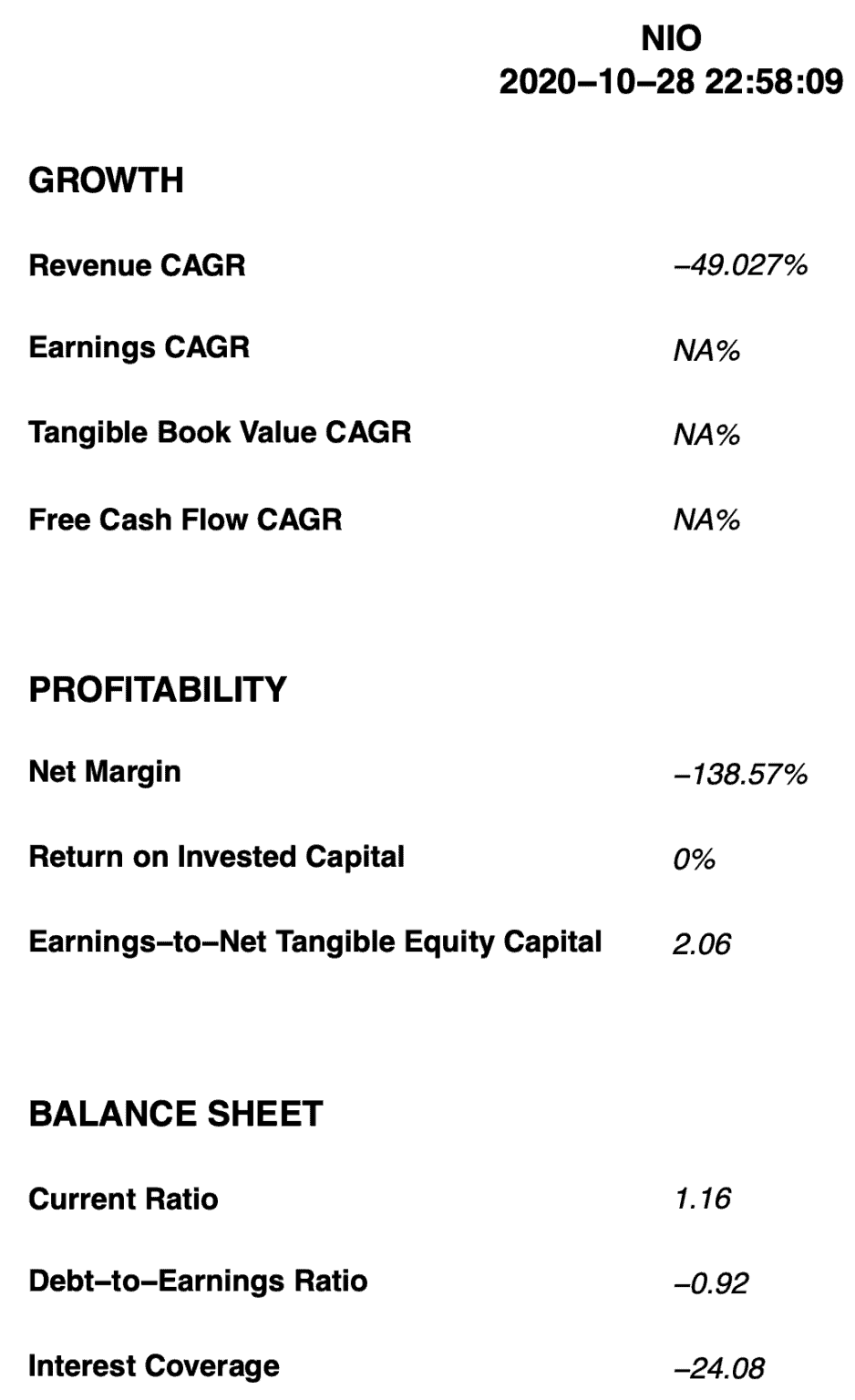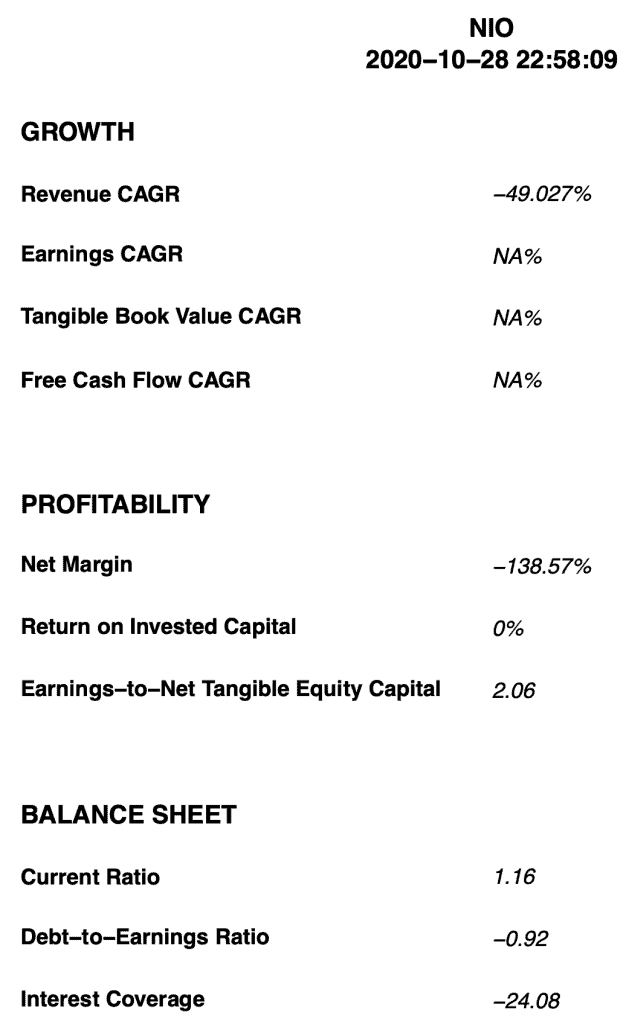 The structure of the article will be split according to:
Business
Revenue Streams
Industry Outlook
Company Outlook
Financials
Potential problems
Business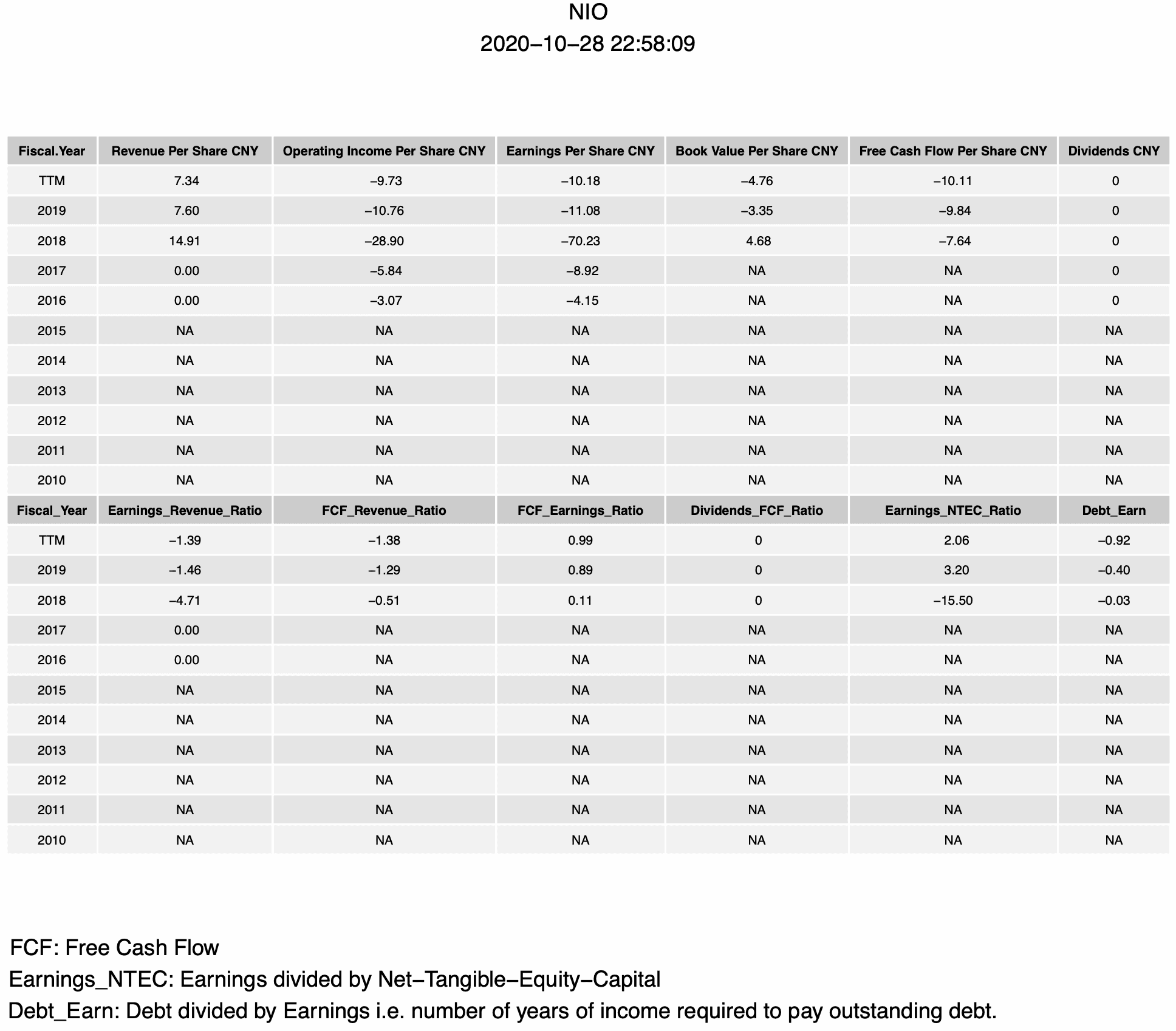 NIO Inc. is a pioneer in China's premium electric vehicle market. They design, jointly manufacture, and sell smart and connected premium electric vehicles, driving innovations in next generation technologies in connectivity, autonomous driving and artificial intelligence.
Redefining user experience, they provide users with comprehensive, convenient and innovative charging solutions and other user-centric service offerings. As of now, they have a few partners for their different products. For manufacturing, they are partnering with JAC motors to produce the vehicles. For autonomous driving features, they are partnering with Mobileye.
NIO's business model is different from Tesla's.
Tesla is more focused towards reaching out the mass market.
Nio is more focused on user experience
NIO has 22 NIO Houses and 55 NIO Spaces in 57 cities, and plans to expand the total number from the existing 77 to about 200 by the end of 2020. These houses bring consumers together via events, creating a lifestyle for them to enjoy. I think that Nio will ramp up production in the future, as their partnership with JAC motors learns to bring manufacturing cost down.
One other difference for Nio is that they have battery swap stations on top of charging stations, something that Tesla has tried out previously in the US but failed. What are battery swap stations? It is a station of a 2 parking lot size which help to swap empty batteries with fully charged ones. This can take up to around 5 minutes, which is faster than charging stations (20-30 minutes). As such, it improves the user experience for electric vehicles.
Swap stations are viable in China as most reside in high rise buildings. It's uncommon for them to own a garage to charge their electric vehicles overnight. Therefore, swap stations are convenient for the customers as they do not need to wait at the charging stations. In US, most residents have their own apartments with a garage, So, charging is more convenient than a trip to the gas station.
Updates
On August 20, 2020, NIO officially launched Battery as a Service, through Weineng battery asset company. There are 4 members of Weineng battery asset company - NIO, CATL, Hubei Science Technology Investment Group, Guotai Junan International Holdings Limited. This is a new business model for NIO, whereby they lease out batteries to consumers at a monthly fee and reduce the initial purchase price of the vehicle. For a 70 kWh battery pack, the battery subscription fee will be about 1060 RMB (~150 USD) per month and the consumers will get a RMB 70,000 (~10,000 USD) off vehicle prices.
This subscription plan also includes insurance, warranty, etc. The main degradation of an electric vehicle is its battery. Through the new business model, consumers are able to enjoy new battery technology changes and at the same time, have their initial purchase discounted heavily. It becomes somewhat similar to paying monthly fuel costs for combustion engine vehicles.
NIO's CEO, William Li, is an extremely smart person with the right vision for the company in my opinion. Here's the video to learn more about him. He's hardworking, trustworthy and humble.
Revenue Stream
Nio's main revenue stream is from
Car sales
Monthly subscription fees from BaaS
Industry Outlook
The trend of electric vehicles is likely to increase exponentially, especially with new policies being implemented to support this change.
China is planning to turn their whole vehicle fleet to around 25% electric by 2025, and plans to continue turning them all in the future.
California has recently announced plans to turn fully electric by 2035. As more states and countries continue to implement such policies, we will see the transition happening way quicker.
Besides this, electric vehicles are far superior than internal combustion engines, while being able to save on fuel costs and maintenance costs. From a consumer's perspective, it should become more clear to him/her that owning an electric vehicle is a better value.
Company Outlook
NIO is backed by the Chinese government. In late April 2020, NIO secured 1 billion USD led by Hefei municipal government to continue its operation before being at the brink of bankruptcy. Since then, the cash injection allowed NIO to further continue its operation for around 2 more years. Besides this, the Chinese government also gives out vehicle subsidies for vehicles that have swappable battery technology- NIO is one of the only few companies that adopts this technology.
NIO has their own proprietary software technology, which does over the air updates like Tesla. Take a look at NOMI! It's the World's First In-Vehicle Artificial Intelligence. This is much better than other legacy OEM who are still using an outdated technology.
Financials
NIO was a company that was likely heading to bankruptcy at the start of the year. It was burning cash massively and they did not have enough to last long. However, there were a few key events that caused the inflection point. Firstly, NIO has reached a preliminary agreement with the Hefei government for 10 billion yuan (US$1.4 billion) in funding, including construction of the company's new headquarters in the city, the capital of eastern China's Anhui province.
Secondly, based on Q2 financial reports, NIO managed to cut costs down such that their vehicle margins turned positive. This was the first time that NIO managed to achieve this since being publicly listed. With an increase in revenue from their vehicle sales and a decrease in cost as they become more efficient, we will see profit margins turning positive soon.
Lastly, NIO had raised more cash (~USD 225 million & 64 million) through dilution of shareholders twice after its share price skyrocketed. For the time being, cash is not a concern for NIO but what should be noted is when will NIO turn cash flow positive. If NIO does not turn cash flow positive, we might see a likely dilution of shareholders in the future.
There are however two major concerns with NIO.
Potential problems
NIO does not do its own manufacturing. It liaises with JAC motors to manufacture its vehicles. So I'm not sure how things will work out if they were to ramp up production. Currently, they announced that they have the capacity to produce 5,000 vehicles per month. I am not sure how this agreement will be a benefit or detriment to NIO if they were to ramp up vehicle production to 40,000 per month like Tesla.
NIO is not vertically integrated unlike Tesla. Thus, it will not be able to achieve high vehicle margins like Tesla. However, NIO managed to achieve a positive vehicle margin (around 9% I believe), but there is much to go if NIO wants to reach the efficiency level of Tesla (currently 25.5%).
Overall, if I were to only have the option to put my money in either Tesla or NIO, it will definitely be Tesla. There is a big enough market for both companies. On a side note, I believe NIO management is doing things right (improving efficiency, reducing cost, growing consumer base).
Thank you for reading! Please like my Facebook page to get the latest updates.