Passive investing with VTI and VTSAX
Buying into VTSAX or VTI is the simplest way to build wealth overtime. Both VTSAX (Vanguard Mutual Fund) and VTI (Vanguard ETF) are Vanguard's Total Stock Market Index funds. It holds every publicly traded stock in the market.
Vanguard's Total Market Fund can be purchased as both an Index Fund, Vanguard VTSAX, or as an Exchange Traded Fund (ETF), Vanguard VTI.
The advantage of an index fund/ETF over an actively managed fund, is its ability to outperform individual stocks over time. According to Vanguard, in a study of index funds vs active funds, 87% of Vanguard mutual funds and ETFs performed better than their peer-group averages over the past 10 years (For the period ended December 31, 2019)
Since index funds are a stable investment option, there's plenty of discussion between the differences of VTSAX (index fund) and VTI (ETF).
Similarities between ETF and index fund
"The biggest similarity between ETFs (exchange-traded funds) and mutual funds is that they both represent professionally managed collections, or "baskets," of individual stocks or bonds".

Vanguard's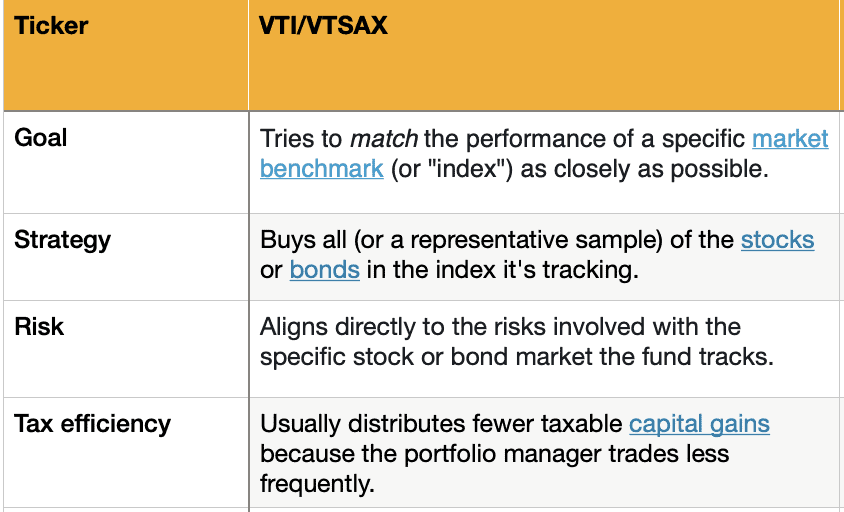 Are ETF better than mutual fund?
Let's look at the differences between an index fund and ETF based on these factors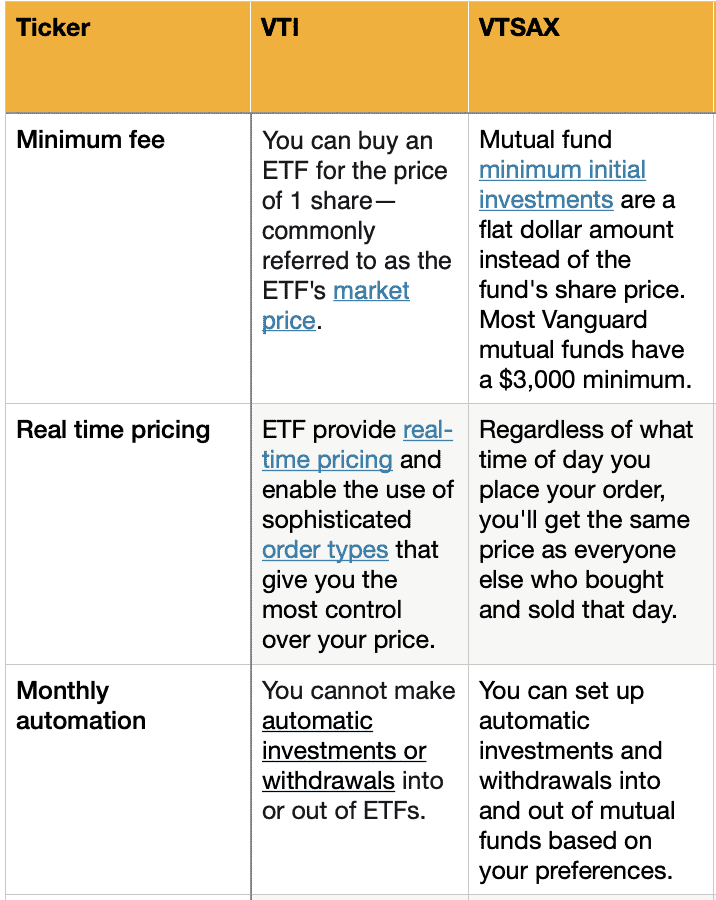 How to Automate Investments in VTSAX?
Once you've made an initial investment in VTSAX, you can then automate future investments. This is a good idea if you want to invest a specific amount of money on a regular basis. This way you don't have to remind yourself to invest every so often; you can simply automate the process.
Automating your investments is also a great way to ensure that you don't attempt to time the market, which is almost a sure-fire way to reduce your investment returns.
Can I convert VTI into VTSAX?
If you really want to invest in VTSAX but don't currently have enough money to meet the threshold for a minimum investment, then you can easily first invest in a VTI and then transfer it to VTSAX once your balance reaches the $3,000 mark.
This conversion can be done tax-free unless you're holding within a brokerage account.
Differences between VTI and VTSAX
VTI stands for Vanguard Total Stock Market ETF. It tracks the performance of the CRSP US Total Market Index. It includes large-, mid-, and small-cap equity diversified across growth and value styles.It is available as an Admiral™ Shares mutual fund (VTSAX).
VTSAX stands for Vanguard Total Stock Market Index Fund Admiral Shares. It is designed to provide investors with exposure to the entire U.S. equity market, including small-, mid-, and large-cap growth and value stocks. It is available as an ETF (VTI).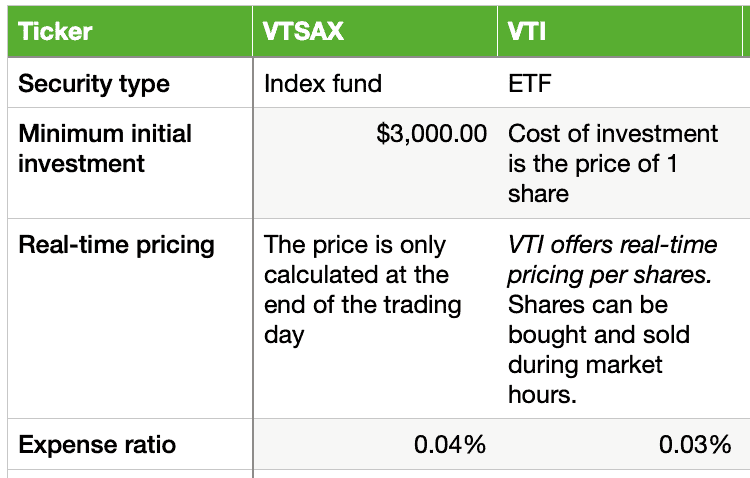 Vanguard VTSAX has an expense ratio of 0.04% per year. This means that for every $10,000 you invest into the fund, you will pay $4 each year in management expenses.
The expense ratio for Vanguard VTI is 0.03% per year, which results in a $3 expense for every $10,000 invested.
This means that investors will pay $1 more in management fees for VTSAX for every $10,000 invested.
Similarities between VTI and VTSAX
1. Equity characteristics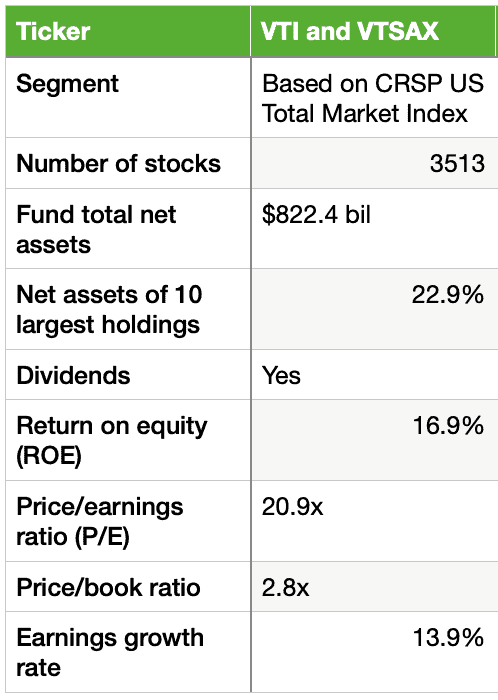 2. Top 10 largest holdings

3. Historical performance
4. Portfolio composition
Check out this video for more insights
TDLR: Should you buy VTSAX or VTI?
When it comes to investment decisions, the best type of funds to buy depends on the individual's investment philosophy and financial objective Here are some factors to consider between VTSAX and VTI.
Convenience: Do you need to automate your investments? VTSAX
Price: Is the minimum initial investment a concern? VTI
Flexibility: Do you want to trade conveniently? VTI
Related article
VTI vs VOO: which index fund is a better investment (updated 2020)
Thank you for reading! Please like my Facebook page to get the latest updates. Please click here for Referral deals.