Sea Limited (SE) 's research and analysis are contributed by Edmund and Harry.
Sea Limited, an e-commerce and video game development company. The company is formerly known as Garena. Their mission is to better the lives of consumers and small businesses with technology.
Overview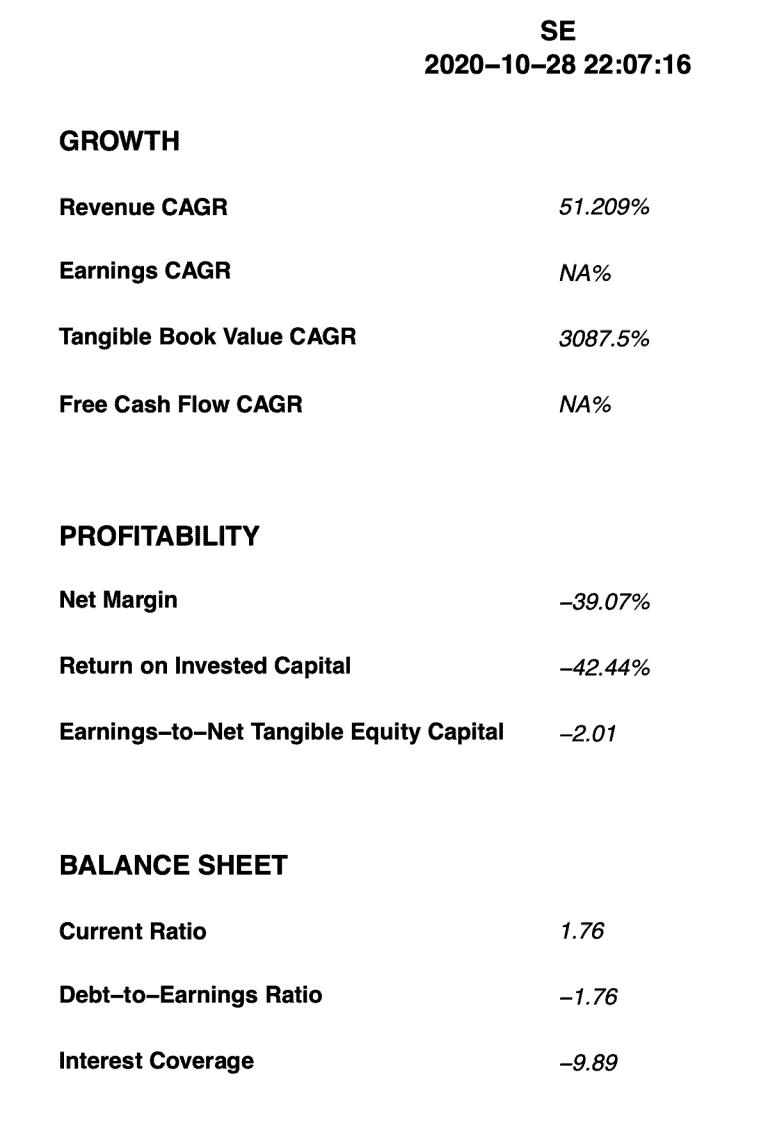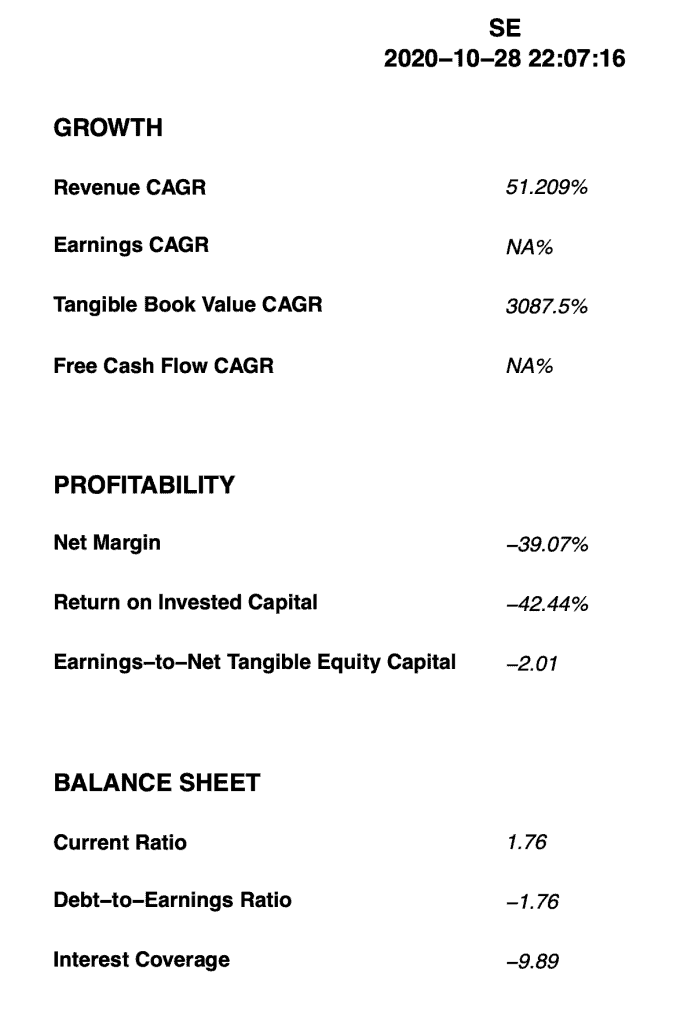 The structure of the article will be split according to:
Business
Revenue Streams
Industry Outlook
Company Outlook
Financials
Business
Sea Limited is an Internet platform provider. The Company has developed an integrated platform consisting of digital entertainment, e-commerce, and digital financial services. The Company operates three businesses: Garena, Shopee, and SeaMoney.
Shopee
Shopee provides tens of millions of consumers with an easy, secure, fast, and enjoyable online shopping experience daily. It offers a wide product assortment, supported by integrated payments and seamless fulfillment. Shopee commits to help brands and sellers succeed in e-commerce and is highly tailored in each market that it operates in.
Garena
Garena provides global users with popular and engaging mobile/ PC online games that it develops, curates, and localizes. It champions games as a social and entertainment platform where its community can engage and interact. In addition, Garena is a leading Esports organizer. It hosts Esports events around the world that range from grassroots local tournaments to some of the most viewed professional Esports competitions globally. Garena's largest global esports tournament of 2019 - Free Fire World Series, achieved over 130 million cumulative online views.
SeaMoney
Established in 2014, SeaMoney is a leading digital payments and financial services provider in Southeast Asia. Its mission is to better the lives of individuals and businesses in the region with financial services through technology.
SeaMoney's offerings include mobile wallet services, payment processing, credit, and related digital financial services and products. These services and products are offered under AirPay, ShopeePay, ShopeePayLater, and other brands in the region.
Regarding the management team, the CEO of Shopee (Chris Feng) has plenty of experience in the e-commerce business. He leads the marketing initiatives for all rocket-internet ventures in Southeast Asia, such as Lazada.com, Zalora.com, home24.com, Foodpanda.com. Having around 8 years of experience in the e-commerce business, he is a veteran who should be able to bring Shopee to greater heights continously.
Revenue Streams
Sea Limited mainly gets its revenue from its digital entertainment and e-commerce business.
Industry Outlook
In this decade, gaming and e-commerce is likely to flourish. During Covid-19 pandemic, the growth in both sectors have accelerated extremely quickly, mainly due to the lockdown measures. This might slow down a little once the world goes back to normalcy, but it will likely not affect the growth trajectory of the industry.
In particular, the mobile gaming sector is thriving. This sector has been growing extremely quickly, with popular games like Genshin Impact, Mobile Legends etc. We can see that with the advancement of the hardware of mobile phones, developers are able to create games that were not possible previously. Besides this, they are also able to integrate games such that you are able to play on different platforms, such as PC, consoles, and mobile phones. Moving forward, I believe that there will be more development of such games, where you are able to play the same account on different platforms. Besides this, there are also a lot of purchases on in-game items, such as skins & power-ups, and I foresee that this trend will continue.
Additionally, there's a mutually beneficial relationship between streamers and the games. Streaming's popularity is picking up rapidly, where now we can see that people are able to do streaming as their full-time jobs; something that was seen as crazy in the past. An increase in streaming content brings about more exposure to consumers. For example, the game Among Us was actually created in 2018, and there was very little interest in the game until a popular streamer by the name of SodaPoppin introduced it into the community. Therefore, moving forward, I can also foresee streamers becoming an essential part in marketing the games.
As for e-commerce in Southeast Asia, it is still in an infancy stage as there are many ongoing developments. These include logistical networks, increased internet/mobile usage, and alternate payments. As these continue to improve quickly, there will be more consumers having access to e-commerce services as well.
Company Outlook
It seems like Sea Limited will do extremely well in this decade - with two main businesses, digital entertainment & e-commerce in the massive growth stages.
Garena is also doing a good job in entering the mobile games sector (which might generate the highest growth for gaming). They had developed a very popular game, Free Fire. In 2019, Free Fire was the most downloaded mobile game globally and the highest-grossing mobile game in Latin America and in Southeast Asia. However, do note that in this period, Battle Royale types of games were extremely popular. Momentums in different types of games come and go, and for Battle Royale types, in particular, it might be more of a hype. Moving forward, I don't see Free Fire becoming the type of games like Minecraft, Mobile Legends, etc, are. Therefore, moving forward, though Garena is moving in the right direction, I would hope that they are able to create that a classic game that can bring them long term stable revenue.
As for Shopee, I see them growing together hand in hand with its competitors such as Lazada, Tokopedia, etc. In 2019, out of the 6 major players (Singapore, Indonesia, Malaysia, Philippines, Thailand & Vietnam), Shopee has the largest presence in Singapore & Malaysia. Additionally, it has the highest monthly active users in its mobile shopping app. This is important as Southeast Asians are twice as likely to make an online purchase from a phone than on a computer. Going forward, I do not see any of them taking a huge lead over one another, but growing together as the market for e-commerce continues to grow exponentially in Southeast Asia.
Financials
In particular, we will just focus on the recent quarterly earnings.
Revenue has increased by 98.7%, which is very impressive and a good sign of a growth company. When investing in growth companies, in my opinion, I will always focus on the top line, which is the revenue, and any revenue growth of >30% shows signs of a good growth company.
However, there's much to be said about the gross margin (gross profits as a % of revenue):
Q1 19: 11.2%
Q2 19: 22.3%
Q3 19: 33.3%
Q1 20: 28.9%
Q2 20: 22.8%
Q3 20: 33.6%
Apart from the anomaly between Q1 19 & Q1 20, we can see that Sea Limited has not been able to achieve any form of improvements in their gross margins. This means that Sea Limited does not really enjoy any benefits from economies of scale.
One thing I like is that they have been increasing their expenses on R&D, which in my opinion is important for a growth company. They have been finding ways to innovate themselves continuously.
For their balance sheet, taking away their inventories (I'm assuming their inventories cant convert to cash as easily), their current assets far exceed their current liabilities, which is a sign of a healthy balance sheet.
For free cash flow, they are still generating positive free cash flow, which is a good sign as they would not need to raise cash in the form of share dilution.
Overall, I'm not very impressed with the earnings reports, mainly due to the inability to improve margins as they continue scaling up.
Personally, I feel that this is a good company to purchase mainly for two reasons:
a. It is recession and virus proof
b. Their two core businesses are growing rapidly this decade
Over the long term, Sea Limited still needs to show signs of profitability (not that important now as they have to continue ramping up their growth).
Thank you for reading! Please like my Facebook page to get the latest updates.